We're With U. Blind performing artists' Virtual Benefit Concert for blind Ukrainians on 16 April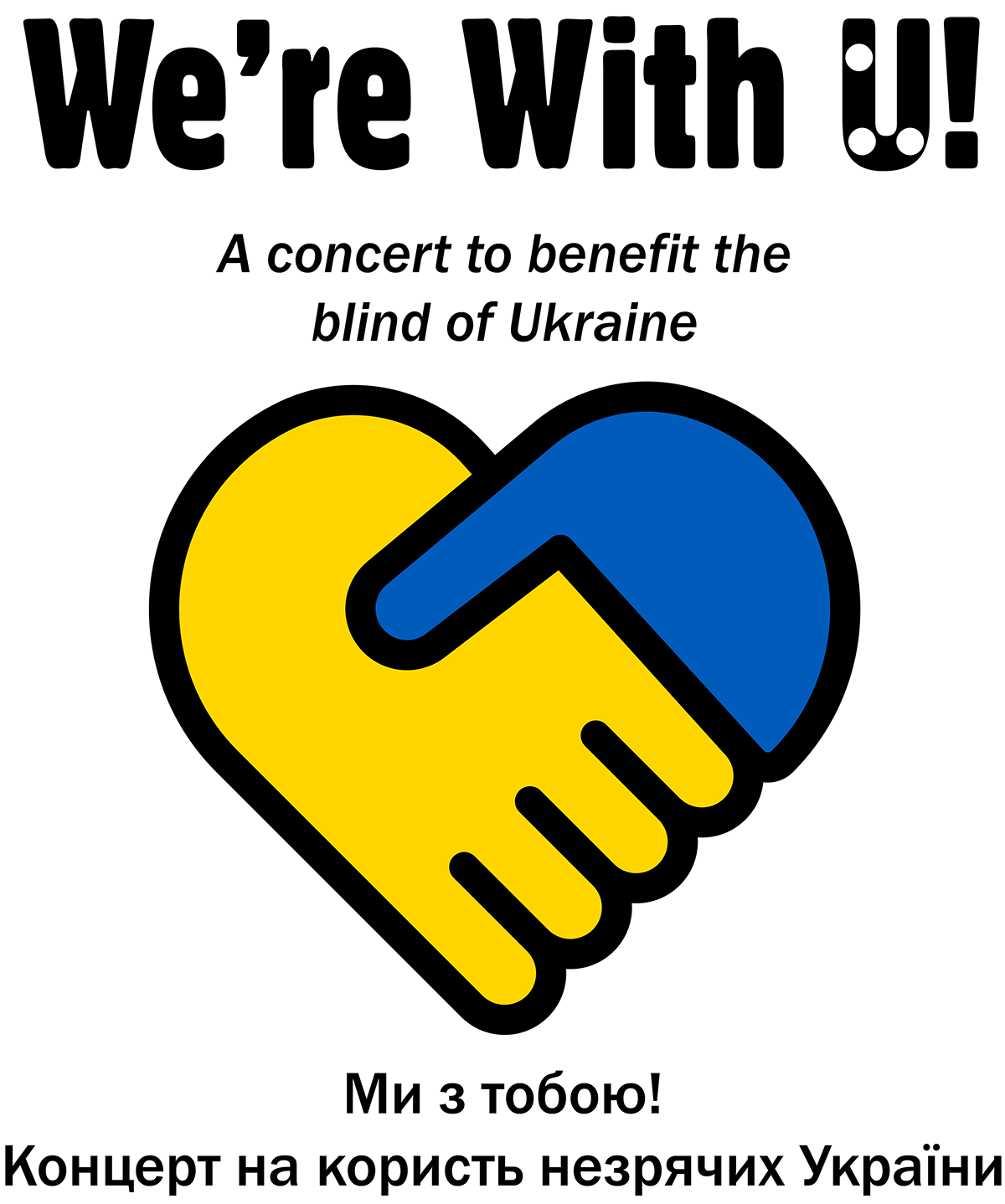 Welcome
On 24 February, Russian forces invaded Ukraine. The death toll is mounting. Families have been torn apart as some seek refuge in other countries, while others stay to fight for their country's freedom.
One of the consequences of war is that it results in life-changing impairments, including blindness. Another is that war leaves those who are already blind vulnerable.
The situation has made many of us feel helpless and heartsick. But there are things we can do, ways we can help.
This Saturday, 16 April at 1800 UTC, 2 PM Eastern time in North America, 7 PM in the UK, that's Sunday morning at 4 AM in Eastern Australia, 6 AM in New Zealand, more than 20 Internet radio stations in the global online blind community are joining together for We're With U, a benefit concert to help blind people affected by the atrocities in Ukraine.
The over 100 blind performing artists who you will hear in this approximately 11 hour event have donated their immense talent because they know that music has power. If you appreciate great music in a range of styles, and even a little poetry, this is your chance to listen to some of the best the blind community has to offer, while making a monetary donation to support blind Ukrainians.
Every cent raised will reach organisations assisting blind Ukrainians, thanks to our partnership with the World Blind Union's Unity Fund. World Blind Union is the global organisation representing the estimated 253 million persons who are blind or partially sighted worldwide. They are working actively with organisations in the area who are providing support to Ukraine. With their support, you can be sure that the generous donation you make will go to a project that makes a difference.
We also thank the National Federation of the Blind for their considerable moral, infrastructural and communications support for this project.
Here are the answers to some frequently asked questions.
How can I listen?
In the spirit of working together that has been the hallmark of this event, many Internet radio stations and channels in the blind community will broadcast the We're With U concert. Chances are that if you listen to an Internet radio service of and for the blind community, you will hear the event there. Please check with your favourite station, and encourage them to carry We're With U if they are not yet signed up to do so. The organisers of We're with U wish to express our heart-felt thanks to the many Internet radio stations who have embraced the spirit of unity characterising this event. Perhaps at times we compete for your listenership. On Saturday, we are united to help those in need.
You can of course hear We're With U right here on Mushroom FM. Mushroom FM has an accessible online player on this website. It is available in all radio directories including Apple Music. It has its own Alexa skill and Google Home action. You can also tell Siri to Play Mushroom FM.
How long is We're With U set to run for?
At this stage, we estimate the event will last around 11 hours. Why not have a few friends stop by, stock up on some good food and beverages, and enjoy this very special occasion. Oh, and be sure to have that credit card nearby!
How do I donate?
We're so glad you asked. While the concert is on, we will have accessible online donation facilities at http://NFB.org/BlindWithU. We would be so grateful if you would give what you can. Literally every dollar matters. There is considerable, desperate, immediate need. When you have donated, you can send a tweet with the BlindWithU hashtag and let us know what you donated if you want to. We'll be pleased to give you a shout out of thanks on the air.
Throughout the concert, we'll be providing regular total updates.
I want to donate to this, but I have trouble with credit card forms. Is there some other way?
We have tried to ensure the donation process is as accessible and friendly as possible. But if you can't donate online for any reason, we would be pleased to assist via phone. Leave a voice message on our donation line, and a representative will call you back early next week to take your credit card number to process your donation. The number in the United States is +1-240-885-7246. That's +1-240-8Ukraine.
Is there a social media hashtag?
You bet! It is #BlindWithU. Note that the U is an uppercase U, and not the word Y O U. Since we can't bring everyone together in a stadium for this event, we encourage you to use the hashtag #BlindWithU during the event, and right now if you want, to discuss the concert. Track the hashtag on Twitter for all the latest.
I represent a business. We'd like to be a sponsor of We're With U. Is that possible?
Thank you for your interest, due to demand, we have created a series of sponsorship options. As well as helping those in dire need, you have the chance for your product or service to reach an engaged global audience. We'll do all we can to ensure your generosity is acknowledged before, during and after the concert. Here is the table of options and benefits.
We're with U sponsorship levels

| | | |
| --- | --- | --- |
| Bronze | $2,500 | Sponsorship message, 30 seconds maximum, played at least five times during the event. |
| Silver | $5,000 | Sponsorship message, 60 seconds maximum, played at least five times during the event. |
| Gold | $10,000 | Sponsorship message, 90 seconds maximum, played at least five times during the event, plus one-off three-minute interview during the show |
| Blue and Yellow | $25,000 | Sponsorship message included in pre and post event emails, Sponsorship message, 90 seconds maximum, played at least five times during the event, plus one-off three-minute interview during the show. Participation in sponsor promotional Zoom event to be held the week leading up to the concert |
I want to perform. How do I register my interest?
We're with U was calling for performers for several weeks, but the entry period has now closed. We cannot except any further entries. We hope you enjoy the music you will hear and that you will give generously.
I am part of an Internet radio station/Other platform that can stream. Can we rebroadcast the event?
We welcome approaches from any partner who would like to carry We're With U. The event is audio-only, and you will need to be able to relay a stream in MP3 format.
For more information or to express your interest, please contact Jonathan Mosen, who will be the MC for We're With U, jonathan at MushroomFM.com. This will also ensure you get important updates relevant to those who are carrying We're With U.